May 18, 2017 - VXS Takeover Announced (1mth 90% Gain for Subscribers)
ViXS Systems (TSX: VXS 22 cents)
This is my second takeover in just over a week.

A great gain... but a valuation I am not the least bit happy with.

http://www.businesswire.com/news/home/20170518006426/en/Pixelworks-Acquire-ViXS-Systems
Pixelworks is offering only USD $20M
and it appears VXS management are happy with this - they must have golden parachutes built into the deal ! Techs of this size should be valued at 1 to 2 times annual revenue. So this offer appears close to 1 times their revenue over the next year. Seems low, but reasonable.
However,
in ALL the ViXS corporate presentations, they have emphasized their HUGE patent portfolio and the fact it is independently valued at (an estimated) USD $50M to $80M
.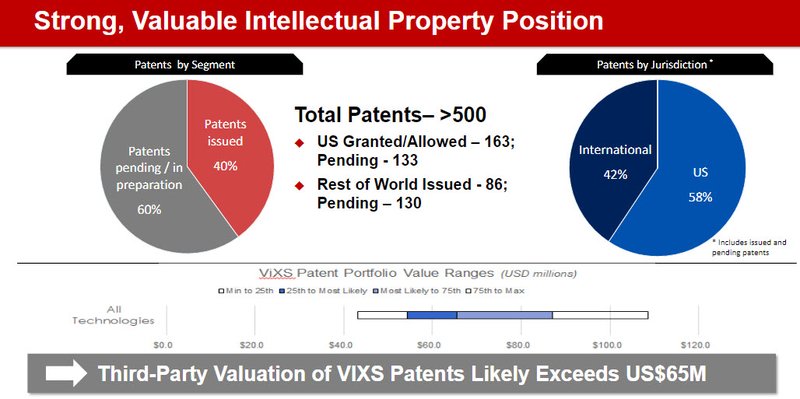 So are they just GIVING the patent portfolio away ?? If this deal is allowed to go through under the current terms, then ViXS shareholders are NOT getting fair value for their investment.
I personally have no intention of selling as I will hold out for a renegotiated deal OR a competing offer.
___________________________________________________
___________________________________________________
May 10, 2017

ViXS Systems (TSX: VXS 21 cents)
Shares Outstanding: 73M / Market Cap: $15M
Estimated Revenue for the Upcoming Year $20 to $30 Million *
Revenue for the year ending Jan 31/17: $29.5 Million
Huge (Unrecognized) Patent Portfolio [>500] potentially worth $50 to $100M
Strong growth potential in UHD / HDR TV and Internet Video
Toronto HQ / Hong Kong R&D / Sales in Asia, Europe, N. America / > 85% of employees are engineers
* April 12th it was announced that VXS would sell a high cost, non-core division for $5M USD
Note that the Graphics below were taken from their Jan/17 Corporate Presentation
https://www.vixs.com/ir-presentations/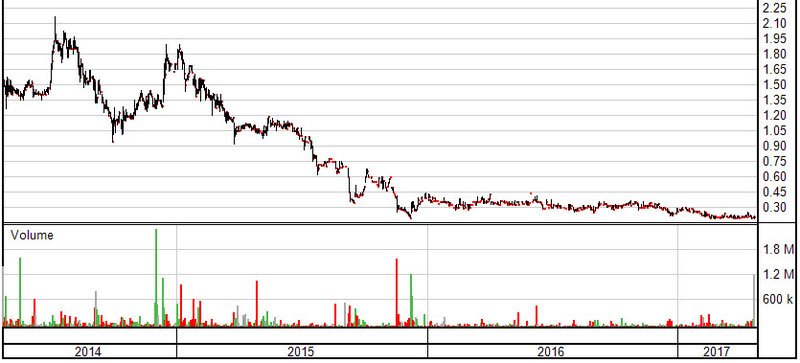 "Current infrastructure is built on 20 year old technology that is not optimized to handle today's video traffic"
The ViXS market cap is only $15M yet there are two specific factors that should make this a very strong speculation from 17 to 20 cents (excellent liquidity lately in the 18 to 20 cent range).

1) They specialize in technology for Internet Video and displays needing 4K UHD and HDR. These are notable areas of strong growth in the coming years.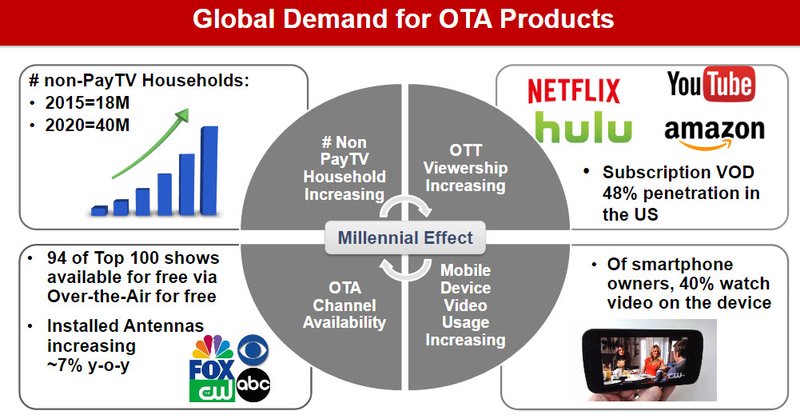 2) Most important - and incredibly overlooked - is their enormous patent portfolio. They own more than 500 Patents (40% approved and 60% pending). This should be extremely valuable. Possibly in the range of $50M to $100 million or 70 cents to $1.50 per share. The market is completely overlooking this value.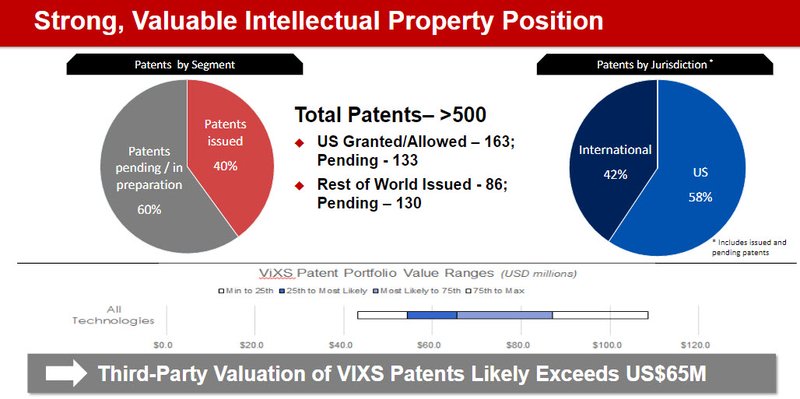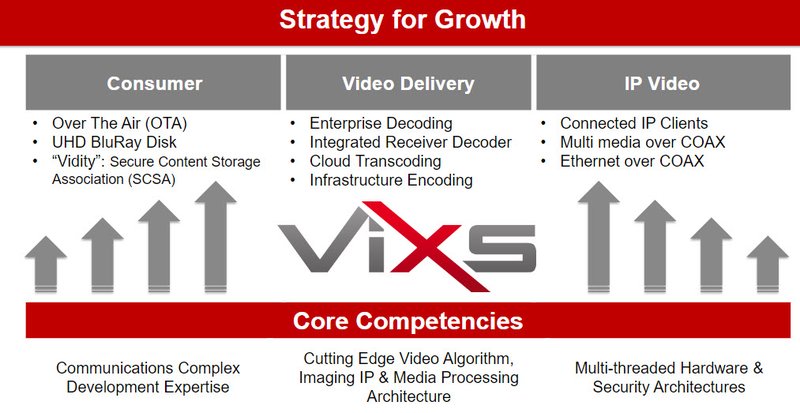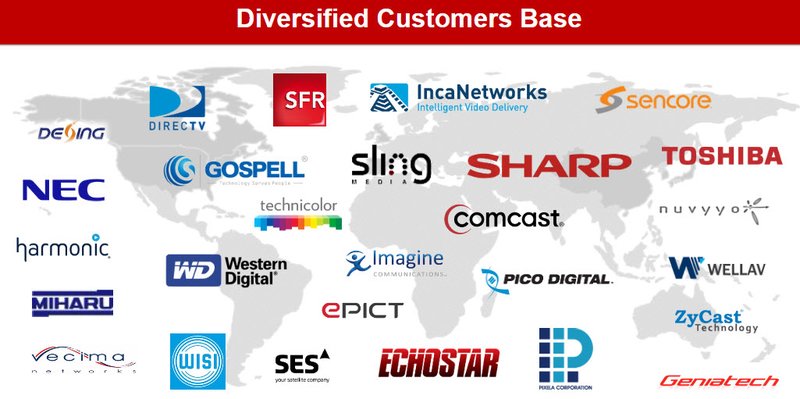 _____________________________________________________
_____________________________________________________
April 17, 2017
Revive Therapeutics (TSXV: RVV 25 cents) (OTCQB: RVVTF)
I am preparing a research report on Revive for late April but in the interim I am providing the comparables as this is where the valuation potential becomes evident.

I determined that it was best to break Revive down into two distinct markets / valuations.

(1) Traditional Medicine / Drug Pipeline and (2) Cannabis Sciences
(1a) I narrowed this division down to 17 comparables (microcap only - CDN or US listed). Valuations range from $12M to $520M CDN.
(2a) In Cannabis sciences there are only 14 "Pure" North American public companies in this space. By this I mean life sciences companies (not growers with a research division) focused on drug research and development using the Cannabinoid compounds in the marijuana plant (the medical benefit vs the high). Valuations range from $11M to $3.5 Billion.
Realistically we can take the minimum valuation from each = $12M + $11M and assume minimum fair value should be CDN $23M or 43 cents per share.

You will likely see where a strong case can be made for saying fair value should be closer to $30M to $40M or 60 to 80 cents per share.

Most the Cannabinoid Science companies are being valued at $50M to several hundred million - which makes no sense to me when they have no revenue, but that seems to be the nature of the sector right now.

I will show all the comparables but we cannot use those sky-high valuations as they make no sense to me. What DOES make sense however, is that this stock (at least from a comparables perspective), is extremely undervalued.

Realistically I think RVV should be worth 40 to 80 cents - in its current state.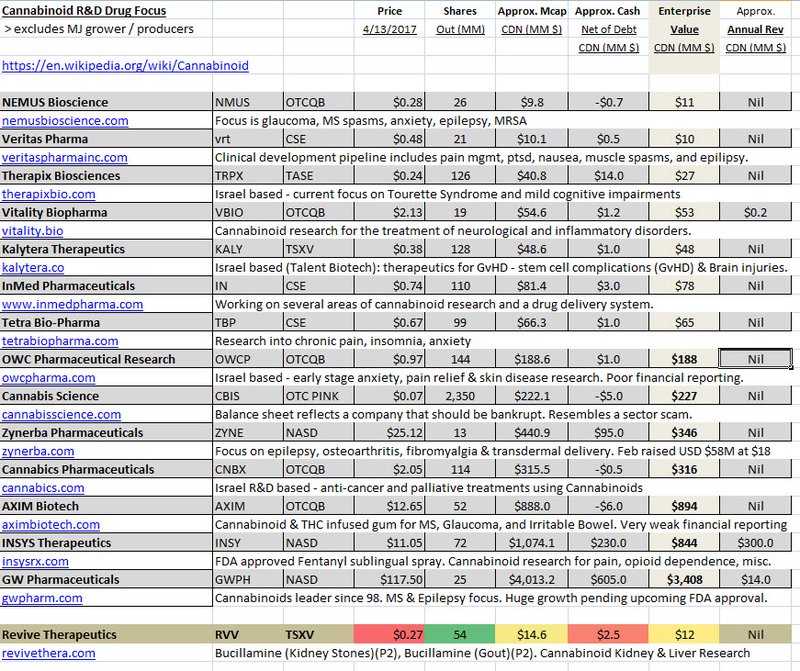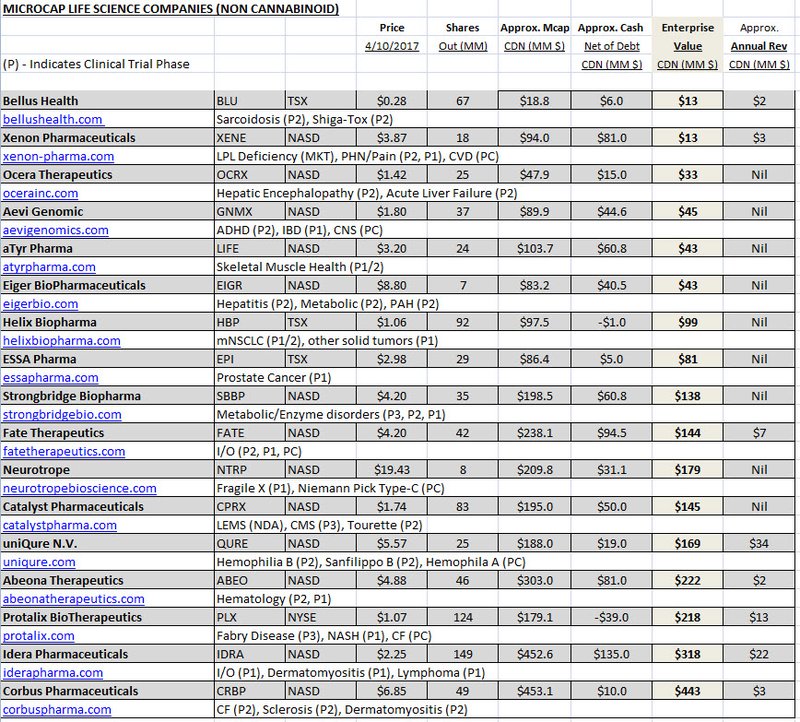 A few of the valuations are so ridiculous that they shouldn't be allowed to trade (no revenue, horrible balance sheets - and yet market caps worth several hundred million dollars). But I still need to use them as comps because they exist in a sector with limited competition (it is an industry that could produce significant future value).

Revive's (more traditional) trial drugs for kidney stones and gout could also be quite valuable, but it is the Cannabinoid Science that will likely have more "sex appeal" this year.

Worth Noting: I spent a LOT of hours searching for comparables using a variety of search term phrases / keywords specific to Cannabinoid science, research, etc. - these were also filtered using certain terms that would only show up in a press release of a public company. This larger list was then filtered down again to meet specific criteria.

What I found fascinating was that there wasn't a single large biotech or pharmaceutical company that appeared in the top-level search. This means they are either (1) not doing research in this field because marijuana is Federally illegal in the United States, or (2) they are conducting research but afraid to discuss it publicly.

If notable Cannabinoid discoveries are made by small companies like Revive, they will attract the attention of majors (similar to the way large mining companies have bought out junior exploration companies).

Revive Corporate Presentation:

http://www.revivethera.com/uploads/1/0/1/0/101019330/revive_-_march_29_2017a.pdf
---
---
Disclosure


Danny Deadlock and no person or company he is affiliated with has received compensation in any form (either directly or indirectly) for preparation or distribution of this information
. No one from the public companies discussed (including officers and directors) has been contacted concerning the content or distribution of this information. It has been prepared completely independent of the public company (PubCo) - other than graphics or text that have been utilized from their publicly available corporate presentation or website.



Danny Deadlock is often a small shareholder of any PubCo discussed (purchased in the open market) and he may be an active buyer or seller of stock at any time this report is in circulation. This research report is for informational / educational purposes only and will also serve as a marketing / advertising tool for MicroCap.com.



Securities discussed on this page are high-risk, time and market sensitive. No statement or expression of opinion, or any other matter herein, directly or indirectly, is an offer, solicitation or recommendation to buy or sell a PubCo.

Neither Danny Deadlock nor MicroCap.com (including any directors, officers, or employees) makes any representation or warranty in respect of the contents of this page or otherwise. In particular, no representation or warranty, express or implied, is made as to the fairness, accuracy or completeness of the information or opinions contained herein, which have not been independently verified. No person shall have any right of action (except in case of fraud) against Danny Deadlock or MicroCap.com.



While Danny Deadlock has used best efforts to ensure the accuracy and completeness of the information presented, such information has NOT been independently audited or verified and Danny Deadlock (or any affiliated companies) assumes no responsibility for its accuracy. The forward-looking information contained in this information (and included on this website) is expressly qualified by this cautionary statement.



Danny Deadlock is not a broker, dealer, or investment advisor. Readers are cautioned to conduct their own research and due diligence and obtain professional advice before making any investment decisions. Danny Deadlock and MicroCap.com will not be liable for any loss or damage caused by a reader's reliance on information contained on the MicroCap website. Readers are solely responsible for their own investment decisions.
---