Peer Valuation Table for Canadian Listed Cannabis Stocks
November 2018, BMO analysts estimated the global Cannabis market (within seven years) could be worth almost $200 Billion annually. The Canadian market is estimated at $6 Billion for 2019.
On the 1st and 15th of each month, I will post an update to these valuations. Snapshots of the table will be displayed below for the most current update - the full table is available as a PDF from the MicroCap.com Blog HERE.

___________________________________________________
Our 2019 MicroCap.com Cannabis Stock Picks:
1) Next Green Wave (NGW:CSE) for Exposure to California
2) Arev Brands (AREV:CSE) for Canadian and International Exposure
___________________________________________________
Important Notes to our Valuation Table:
Cash and shares outstanding excludes any financings completed since last financials were released.

Financings occur between financial reporting periods & warrants are continually being exercised - financials and shares outstanding are a moving target.

When the next financials are released, Cash positions may change significantly as capital is being utilized for new Buildings and Equipment.

Cannabis companies are "creative" in accounting for biological assets (cannabis) - don't rely upon Net Income / Loss shown below - dig into financials yourself.

These tables are for benchmarking purposes only. Very reliable for the most part - but reporting net income / loss was notably frustrating at times.

Adjusted Book Value = Cash/AR/GIC - Debt + Inventory + Bldg & Equipment (excludes Goodwill / Intangibles & Long Term Investments).

Price to Book Value: Higher in this industry because investors are assuming high future growth (Facebook for example trades at approx. 7x Adjusted Price to Book).


Sorted by descending Price to Adjusted Book Value



___________________________________________________

Last Updated: November 12, 2018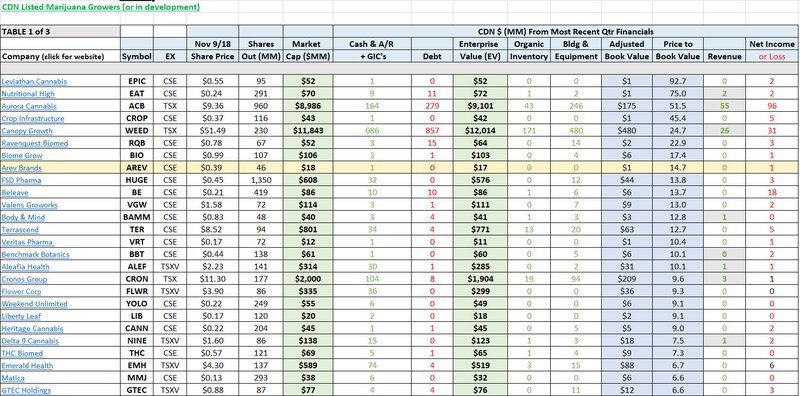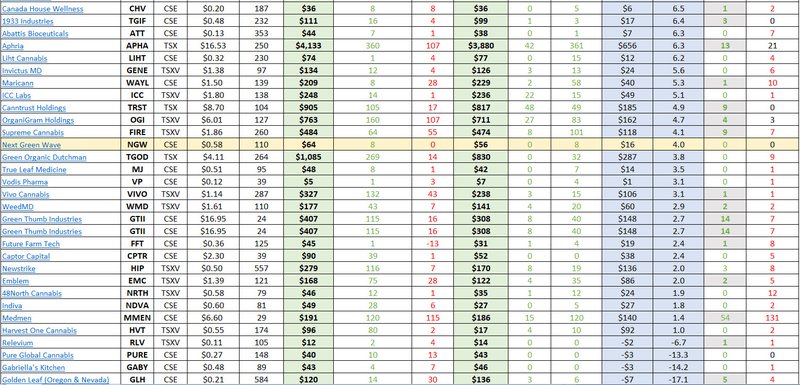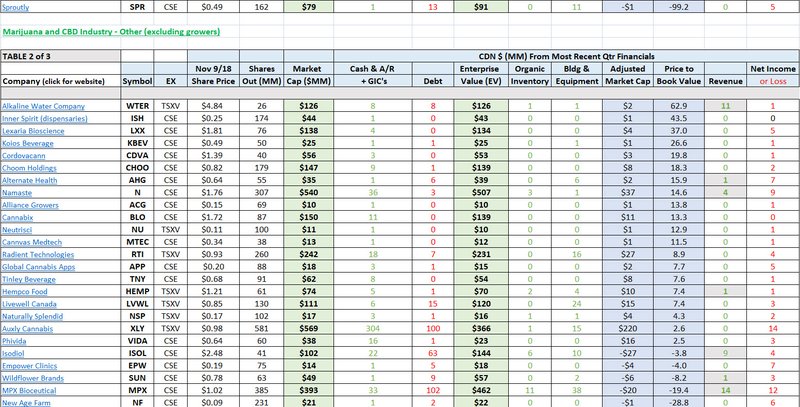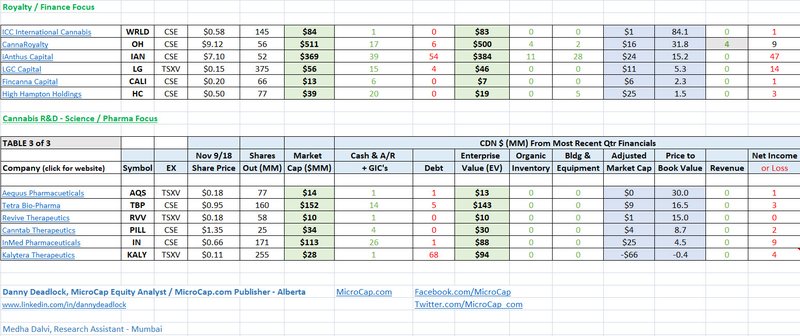 If the above snapshots are difficult to read, use the original PDF file as you can zoom in for better clarity. That is available on the MicroCap.com Blog - HERE.

For overall Sector Tracking: www.marijuanaindex.com