MicroCap Stocks are the highest risk equity class, but they also have a long history of producing Exceptional Gains
Our research via email is available by Paid Subscription Only. Restricting the initial size of our audience to paid subscribers ensures that our members have exclusive and timely access to new research, recommendations, updates, and news.
Throughout the year we make a percentage of our stock picks public (through our MicroCap Blog, social media and Linkedin), but only after MicroCap subscribers have had sufficient time to properly research the company. This ensures they are not competing with a large audience on share price.
You can find more information on our Blog HERE.... and you can SUBSCRIBE HERE
---
We have published equity research
online since 1998
 and are one of the few independent investment letters
focused exclusively on Canadian microcap stocks
(penny stocks). We leverage 
decades of penny stock experience
with
full time independent equity research
, and utilize our
network of investor / industry contacts
to share
ideas and insight
with MicroCap subscribers.
We DO NOT accept compensation of any kind from public companies (or anyone associated with them). Our stock picks are chosen for their capital gain potential, NOT because we have been compensated for featuring them (a common problem in this industry - and something to always be cautious of).
Diversification
is very important with these small stocks so we cover various sectors depending upon risk, broad market interest, established or developing sector trends, and shorter term capital flow driven off herd mentality (a sector rally in gold or social media stocks for example). Canadian listed companies do business around the world so we carefully monitor country risk.
Even in the toughest of markets we have generated substantial capital gains for our subscribers by managing risk first.
MicroCap Market Monitor Included Free With Your Subscription
To assist with your overall portfolio management and help manage / assess market risk, we email our Market Monitor on the weekend. Over a period of 15 years Danny Deadlock (MicroCap Publisher) assembled a list of the brightest minds in the world of finance - Analysts / Strategists / Fund Managers / Economists / Professors / CEO's. He now tracks their comments in the media and we summarize the most useful insight in a weekend report.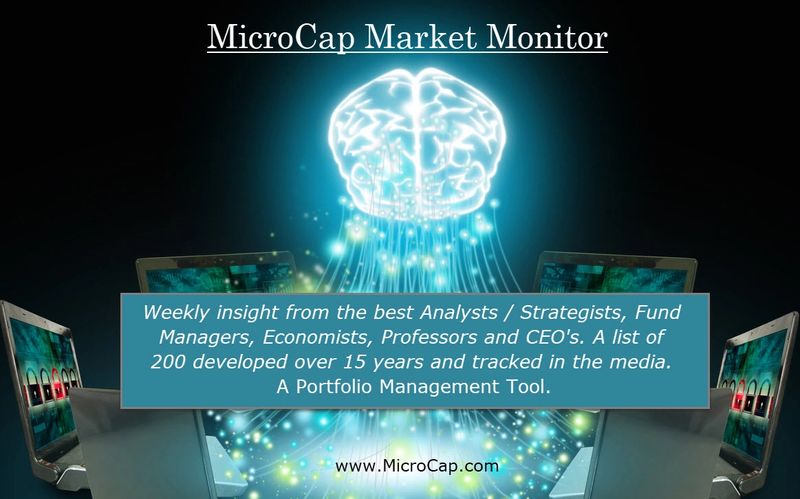 To better understand who we are and what we offer, please visit ABOUT US and WHY SUBSCRIBE

Subscribe using our shop (link top left) or Click Here

"Canadian Micro Cap stocks have consistently generated remarkable gains for investors globally (many well in excess of 1000%). Success stories from Blackberry to world class mines and energy producers in dozens of countries began as small Canadian listed public companies."